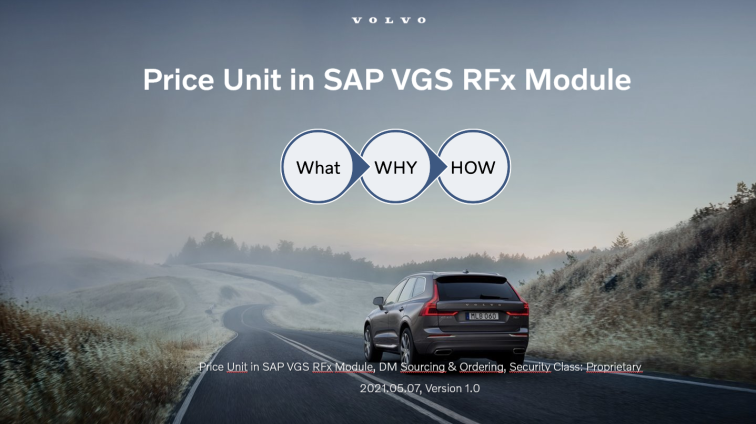 ​The logic for the parameter Price Unit in the RFX module in SAP VGS is changed, this change affects both buyers and suppliers.​
​
When the buyer add parts in the Line Items tab, the Price Unit parameter will only allow 1, 100 or 1000. (No other price units are allowed) ​
​
You as a supplier can no longer do changes in the Price Unit field.​
​
The value in the Price Unit field is the same for all the parts in the RFx.​
​
After the RFQ is set to "Open for response" by the buyers the Price Unit parameter can not be changed by anyone. ​
​
​To quality assure the sourcing data withing VCC the buyer must use 100 or 1000 in the Price Unit field when sourcing for low value parts. ​
​
As a supplier its important for you to read the Price Unit field as below:​
If its written 1, the buyer will expect to receive a quote price for 1 unit (e.g. piece, liter, ton, meter etc) ​
If its written 100, the buyer will expect to receive a quote price for 100 units (e.g. piece, liter, ton, meter etc) ​
If its written 1000, the buyer will expect to receive a quote price for 1000 units (e.g. piece, liter, ton, meter etc) ​
​
​
Choose Title in RFx Module ​
When you are logged in to SAP VGS, enter the RFx by follow the steps below (No changes from previous procedure)​
​
Click on RFx​
Choose the Title you want to work with and click on it